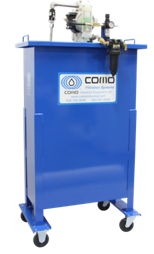 "Portable Coolant Recycling System" – previously a demo at a machine tool sales company.
Close to brand new condition. Removes Tramp Oils and Loosely Emulsified Oils and Suspended Fines. With on board Ozone Generator kills on contact odor causing bacteria, virus' and other hazardous compounds.
Priced New: $6,345.00…………………………………………………….Sale Price: $4,345.00
"Portable Bag filter System"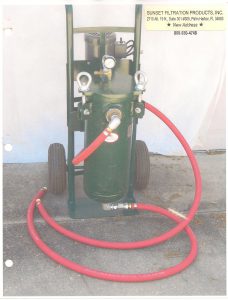 "Portable Bag System"- used to filter coolant in and out of machine tool sumps
Pump is a progressive cavity to handle high abrasives and easily pump at a 15 GPM rate. Uses standard #1 size filter bags from 1 -200 microns.
Price New: $3,495.00…………………………………………………..Sale Price: $1,500.00