High-Capacity Bag Filters
All sizes shapes & dimensions available from single to multiple and automatic duplex systems.
Carbon or Stainless Steel Construction with adjustable legs
Connection sizes: 2″ STD, 3/4 NPT – 4″ Flange
Flow rates: from 1 USGPM On Up.
Design pressure: 100 to 500 PSI @ 500°F
Particle removal from 1 to 1500 microns
Applications: 
These high capacity bag filters are designed to remove solid particulate contaminants from processed liquids such as paints, petro chemicals, pharmaceuticals, process water, injection water, resins, solvents, inks, chemicals, adhesives and paper coatings.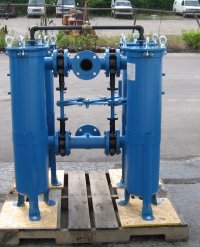 Features: 
Constructed of heavy gauge carbon steel these bag filters feature, large area woven wire mesh retainer baskets, machined "O" ring cover and retainer basket seals, swing bolt closure, and sturdy tripod support stands. Stainless Steel Available.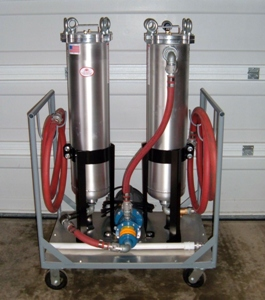 Filtration:
Sunset Filtration offers a number of different types of filter bags with media ratings from 1 – 1500 microns and materials such as felt, multifilament mesh, and monofilament felt. Felt is a disposable media of moderate cost and is generally used where a particle retention of 1 – 200 micron is desired.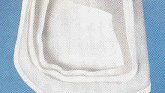 Multifilament mesh such as polyester or nylon is a low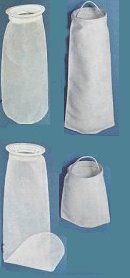 cost disposable woven material generally used where micron ratings of 75 – 800 microns is required. Monofilament mesh, however, is an exceptionally high strength, higher cost, woven material generally considered as cleanable and normally available in the 50 – 800 micron range. Specialty bags such as multi-layered (shown) and special sizes are available, call for a quote.