Pump 55 gallons in 90 seconds!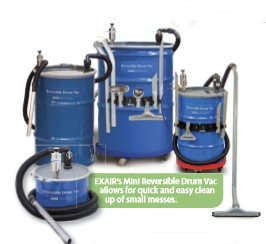 Two-way pumping action!
What is The Reversible Drum Vac?
A safe, maintenance free way ot recover:
Coolant
Hydroaulic oils
Liquic spills
Sludge andchips
Tramp oil
Waste water
Options:     Chip Vac / Chip Trapper / High Lift Chip Trapper
Heavy Duty HEPA Vac / Heavy Duty Dry Vac / High Lift Reversible
Drum Vac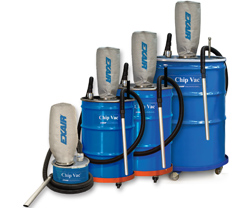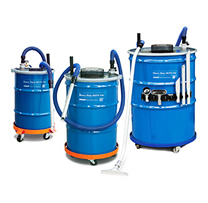 Industrial Vacuum
Features:
 Wet or dry — it doesn't care!

Ergonomically designed for efficient operation
Maneuvers easily
Quiet Operation
No more broken shop vacs again!
No Moving Parts, Maintenance Free, S. S. Construction,
Safe – no electricity, Built-in pressure/vacuum relief,
Compact & Portable, Installs Quickly, Spill Free – Auto Shutoff,
Fits Standard Closed Top Drums


Drum Vac – Pump 55 gallons in 90 seconds!
Compressed air operated Model 6195 Drum Vac System attaches quickly to any closed head 55 gallon (40 imperial gallon) drum. Its high powered vacuum fills the drum in less than two minutes. No moving parts or electricity assures maintenance free operation. An automatic shutoff valve prevents spills or overfilling.