Wastewater Recycling and Disposal
Cleans Wastewater Economically Using the Original Bentonite.
Applications Include:
Washdown Water
Metal Working Coolants
Parts Washer Water
Vibratory Deburring & Finishing
Flocculant Removes:
Emulsified Oils
Heavy Metals
Suspended Solids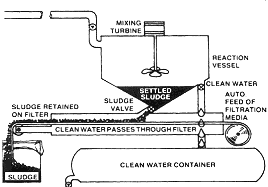 This unique system of removing emulsified oils, metals and other contaminants from water utilizes a one step, clay based powder chemical addition to the wastewater. The unit agitates the water and chemically breaks the emulsion and generates a clay floc that scavenges contaminants out of the water into a non-leachable, disposable sludge. Clean water can now be recycled or safely put down the drain.
Systems from 55 gallon batch to tens of thousands of gallons per day!
We offer a complete line of wastewater treatment equipment including special media for removing hydrocarbons from water streams and encapsulating agents for solidifying sludges.
Easy one step treatment
Lowest price per gallon cost
Heavy duty easy to operate equipment
70 years world wide experience
Safe to Use / Non-Hazardous
Removes Emulsified Oil – Toxic Heavy Metals &
Small Suspended Fines